Storytelling with
Eternal Value
This Is Your


Story

Legacy

Memory
Blue Couch Productions was born out of a desire to capture life's authentic moments without a filter. Your wedding day will flash by in the blink of an eye. Our passion lies in capturing those special moments as they unfold so they may be turned into an heirloom that can be cherished for years and generations to come.
Choosing a good videographer can be overwhelming. We know, we've been there. As a married couple ourselves we understand how important it is to feel comfortable and at ease on your wedding day. That's why we take the time to build meaningful connections with you in order to ensure that your wedding film reflects the essence of who you are.
There are not enough words that we can say about Richard and Mabel. But we'll start with this. THEY ARE AMAZING! Richard and Mabel are the sweetest, most creative team we have ever come across. They are so professional, kind and made us feel so comfortable and confident which translated to an amazing film. They guided my husband and I through the entire process feeling and looking our best, but most of all made sure we had a lot of fun. We would do it over and over again.
Richard and Mabel are a beautiful and excellent couple. They took the time to get to know us and what was really important to us. The wedding day was very fun and relaxing. We really enjoyed their dynamic way of working with us.The dynamic of working with them was excellent and we really enjoyed it. When we began planning our wedding we were not sure if we would hire a videographer, now we are SO happy we did!
When you first get engaged all the thoughts flood your mind on how you envision it to be. Blue Couch exceeded our expectations. They were professional, personable, detail oriented, flexible, communicative and they really made us feel comfortable as if we were part of the family. Their talent goes beyond words. They truly captured the essence of us!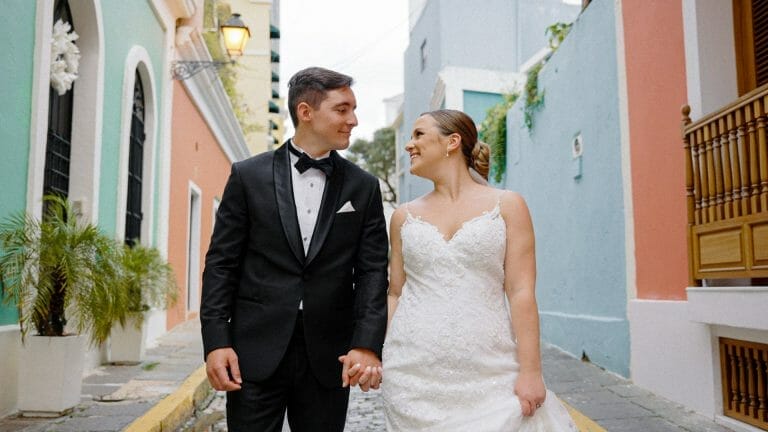 We almost didn't hire a videographer for our March wedding in San Juan, and I am SO happy that we did. Richard and Mabel were absolutely incredible to work with. As two people who had never been in front of a video camera like that, they made my husband and I feel very at ease. I have watched the film about 100 times. It beautifully captures the day and we are so happy!